Co-organized Events
Pan-Austro-Nesian Arts Festival
PUBLISHED JULY 17, 2021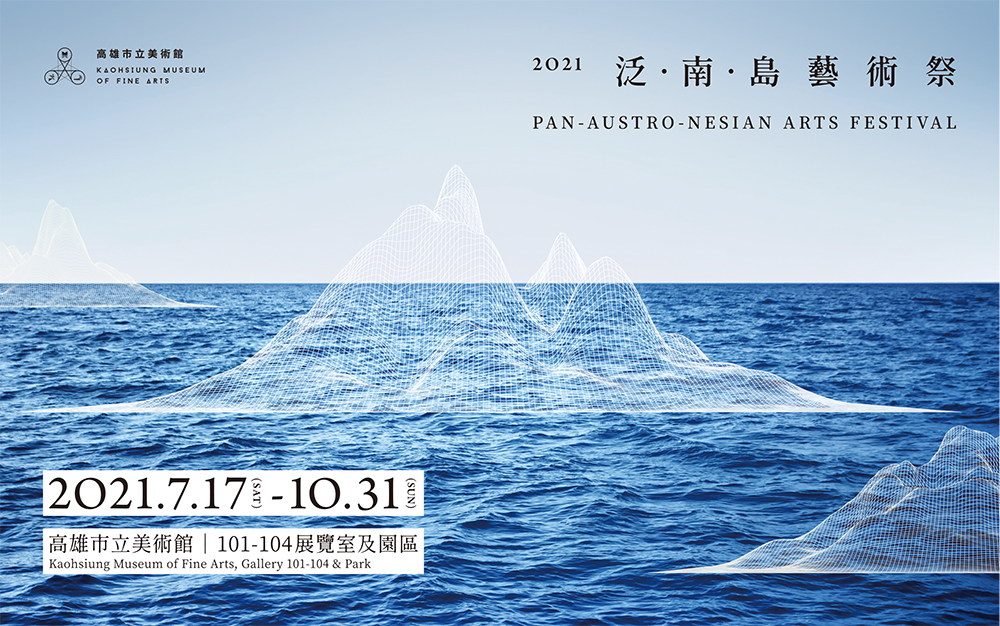 The permanent currents of the ocean are, in a way, the most majestic of her phenomena.
This invisible power reaches across the planet, tugging on the gigantic water body that envelopes the planet and forms a myriad of extraterrestrial connections with the mysterious universe. When Austronesians sailed toward the broader world in outboard canoes, their movements along the currents became a quality of the signature characteristic of Austronesian culture.
The title of Pan-Austro-Nesian Arts Festival represents:
Pan ─ expansive, all-inclusive visions that transcend boundaries.
Austro ─ plural, non-center-constrained perspectives.
Nesian ─ multilateral oceanic connections.
Compared to mainstream cultures of modernism, the concepts of "Austro" and "Nesian" enjoy relative "openness," conveying fluidity and dissociation. Also, referring to the "Pan" concept, we hope to create a common ground through contemporary art, where issues are shared in a global cultural context and where communication transcends blood ties, languages, ethnic groups and national boundaries.
The Pan-Austro-Nesian Arts Festival builds on Kaohsiung Museum of Fine Arts' long-established research and interest in contemporary Austronesian art. By zeroing in on the islands instead of the continents, the arts festival embraces the fluidity and non-rigid territorial characters of the ocean, developing a new cultural brand for the city of Kaohsiung. Twenty-three groups of artists across Taiwan, Australia, New Zealand, South Korea, Japan, Pakistan, and France are participating in this exhibition. The exhibition is divided into three subtopics: "From Known to Unknown," "Dark Islands," "Circle of Life". The first subtopic, "From Known to Unknown," discusses how people set off from familiar grounds to explore unknown realms. The second subtopic, "Dark Islands," looks further into the impact of Imperialism and Colonialism and beneath the deep waters of conflicts and exploitations in the community to reflect on the possibility of healing. The third subtopic, "Circle of Life," contemplates our status in the embattled contemporary world: how shall we live with ourselves?

Date: 2021.07.17 - 2021.10.31
Venue: Kaohsiung Museum of Fine Arts
Official Website: https://www.kmfa.gov.tw/SouthI...

Artists

Yuki Kihara/ Wang Hong-Kai/ Wu Sih-Chin/Wu Tsan-Cheng / Hiroshi Sugimoto/ Idas Losin/ Rahic Talif / Dondon Hounwn/ Labay Eyong/ Lala Rukh/ Chiu Chieh-Sen & Margot Guillemot/ Jane Jin Kaisen/ John Pule /Ngahina Hohaia/ Chang Chih-Chung /Chang En-Man/Jonathan Jones / Tjimur Dance Theatre / Kulele Ruladen /Masiswagger Zingrur /Varig Tinaway / Lu Chien Ming / Lola Greeno

Supervisor: Ministry of Culture, Ocean Affairs Council, Kaohsiung City Government, Bureau of Cultural Affairs Kaohsiung City Government

Organizer: Kaohsiung Museum of Fine Arts (KMFA)

Sponsors: Museum Friends Association, Yu-Chi Kao, Taiwan Fuhsing Culture & Education Foundation

International Collaboration: Yayasan Biennale Yogyakarta, National Culture and Arts Foundation ARTWAVE -Taiwan International Arts Network, Taiwan-Asia Exchange Foundation

Official Partners: National Human Rights Museum, Australian Office in Taipei

Media Support: ARTCO Monthly, Art Emperor, Artist Magazine, Shopping Design, LaVie, unitas lifestyle, Simple Info

Special Thanks: TALEES, TSUTAYA BOOKSTORE, eslite bookstore, Kaohsiung Public Library