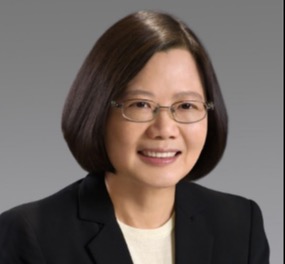 H.E. Tsai Ing-wen
President
Republic of China (Taiwan)
Dr. Tsai Ing-wen is the 15th President of the Republic of China (Taiwan).
Born in 1956 in Taipei City, Tsai Ing-wen traces her family roots to Fangshan Township of Pingtung County in southern Taiwan.
Dr. Tsai began her tenure as part of Taiwan's trade negotiation delegation in the late 1980s. By 1990, Taiwan began working on the bid to join the General Agreement on Tariffs and Trade (GATT), eventually gaining admission to the World Trade Organization (WTO) in 2002. She was on the front lines of the process during key negotiations in her capacity as Chief Legal Advisor (1992-2000).
In the late 1990s, cross-strait relations experienced several changes. Dr. Tsai served successively as Senior Adviser to the Mainland Affairs Council (1994-1998), Senior Adviser to the National Security Council (1999-2000), and Chairperson of the Mainland Affairs Council (2000-2004), devoting her efforts to the development of cross-strait relations.
Dr. Tsai joined the Democratic Progressive Party (DPP) in 2004 and became a DPP legislator at-large (2005-2006). She was then appointed to serve as vice premier (2006-2007).
Dr. Tsai represented the DPP in Taiwan's 13th-term presidential election in 2012, becoming Taiwan's first female presidential candidate. She ran again as the DPP candidate in 2016, and was elected as the nation's 14th-term president. The first female head of state in Taiwan's history, Dr. Tsai is also the first female head of state in Asia who was not born into a political family. Dr. Tsai represented the DPP in the nation's 15th-term presidential election in 2020 and was successfully re-elected with over 8.17 million votes, the highest total in history.
Dr. Tsai obtained a Ph.D. in Law from the London School of Economics and Political Science in 1984, specializing in international trade law.